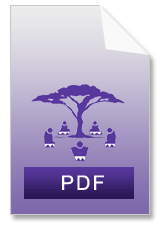 This flyer is available for download in two languages. See end of post for details.
All persons have human rights that a democratic government must never take away. If this is not happening in our country then it is time to effect change. The bill of rights acts as a limitation on the power of government. All democratic governments have clear and justiciable bill of rights protected by the constitution.
The Constitution Parliamentary Committee (COPAC) Outreach Teams (ORTs) are coming to your ward to get your views of what the constitution should be. You are completely free to express your views in public. Don't let anyone intimidate you. If they do report immediately to the police, COPAC, church or a human rights organisation. No one, not even your party leader, should tell you what to say. You are about to make a constitution for yourself, your family, your community, your people, and your country, for now and for future generations and generations. Take the right and duty very serious.
When COPAC teams arrive they will ask you about what rights you want protected and the questions may be as follows:
What rights do you want the constitution to protect?
Which rights must never be taken away? Should any rights be limited? How? By who? For what reason? For how long?
What bodies do you want established to protect your rights?
Should the death penalty be allowed? If yes, for which crimes and following what checks and procedures?
What should be the human rights of women? Should abortion be allowed? Under what checks and procedures?
What should be the human rights of children? What should be the obligations of family and state to the child?
What should be human rights of disabled people? The elderly?
Should marriage between same sex people be allowed?
What should be done about the people who were killed, or lost their rela-tives, or property in the hands of government?
So get together as groups and write your submission in advance. Select individuals who will speak on each topic on behalf of the community.